It's been a while since we presented a smartwatch and the time has come. Today we are presenting a SMA-Q E-Paper Smart Watch. It's a good product offering great features for an acceptable price.
Why is it called a "E-Paper Smart Watch" you ask? Well SMA-Q E-Paper Smart Watch offers a so called E-Ink or E-Paper color display which has many benefits from great outdoor readability also in direct and strong sunlight and also great efficiency when it comes to battery life. The SMA-Q E-Paper Smart Watch is also water resistant so you can easily wear it while washing your hands or face, no worries.
The SMA-Q E-Paper Smart Watch offers features like Heart rate monitor, Pedometer, Sedentary reminder, Sleep monitor and also Bluetooth Calling and Message Checking. It can also be used as a camera remote to trigger a photo at the exact time you want and also offers 6 kinds of clock interfaces. It can be used with Android and iOS devices and Android 4.4 / iOS 7.1 or above systems are supported. The screen is 1.33 inch in size and the design of the smart watch is unisex from Aluminium alloy.
The SMA-Q E-Paper Smart Watch is on Pre-Sale at Gearbest and could be yours for just $55.99. The Pre-Sales are open until Nov 16th and the watch is available in four colors; Blue, Red, Khaki, Black. There are quite some pre-orders made so make sure you are not the last one to the party and pre-order now!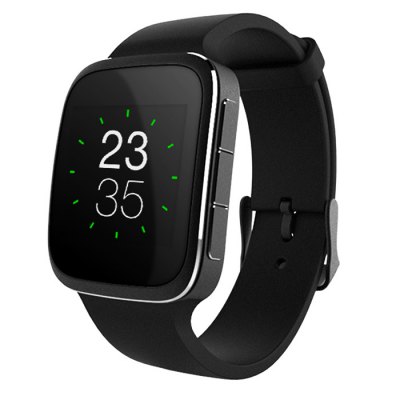 Pre-Order SMA-Q E-Paper Smart Watch
SMA-Q E-Paper Smart Watch Features
• Imported E-paper screen of SHARP: Ultra-low power consumption, not afraid of strong light, better visual effects for outdoor sports; The screen is always lighted, you can get time without doing anything.
• 30 days standby time: Ultra-long standby time up to 30 days, don't have to worry about power problem.
• Colorful and replaceable TPSiV band: The watch band is made of TPSiV material, skin-friendly and anti-allergy.
• Incoming call shows: When a call comes, SMA-Q reminds you with vibration and will display the caller's name.
• Information checking: You can check the E-mail, message on the smart watch SMA-Q.
• 7 x 24H dynamic heart rate monitor: 24 hours monitor your heart rate, let you know about your heart rate.
• Pedometer / Sleep monitor / Sedentariness reminder: Take care of your health, help you develop good living habits.
• Remote camera: Control your smart phone to take photos, you can enjoy the pleasure on your wrist.
• 30M water resistance: You can wear it to wash hands and face.
App downloads:
iOS users can search SMA from the App Store then download and install it;
Android users can download SMA from the major Android platform.