About My MK802 III
It has been some time since i have bought MK802 III mini computer – I bought it in December 2012 to be exact. I also own a Philips 3000 series LCD TV 47PFL3007H for some time now. This is a "dumb" TV – not expensive, but it has a big 47″ screen and supports Full HD resolution. The only thing i am missing is it that doesn't play .MKV files from my USB stick or USB disk. The TV only plays H264/MPEG-4 AVC, MPEG-1, MPEG-2, MPEG-4 and of course MP3 and JPEG format. So i decided i would like to make my TV a Smart TV.
Browsing the internet i found an online electronics and "geek gadget" shop from China called GeekBuying.com. Looking through the gadgets i stumbled upon a MK802 III mini computer running Android 4.1 that you can connect to your TV and make it smarter! You can play all sorts of video formats including .MKV from this tiny Android devide connected to your TV via HDMI. The price of this device was 58.99 USD wich in my opinion is not much and at the bottom of the product pagei found a link to a RC11 Android Monitor Wireless Keyboard Air Mouse Remote Controller With Gyroscope.
I ordered the whole package (MK802 III 4GB+ WiFi AirMouse) that costed me 82.27 USD which is not a lot of money to make my Philips TV a lot smarter! 🙂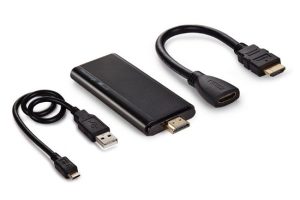 MK802 III Technical Specifications:
Model MK802 III Dual Core
CPU RK3066 Dual Core – Cortex-A9 Up to 1.6GHz
GPU Quad- Core 2D/ 3D/ OpenGL ES2.0(AMD Z430)/ OpenVG1
OS Android 4.1
RAM 1GB DDR3
Memory 4GB/8GB Flash (two different editions)
Expansion Micro SD T-Flash(Maximum support 32GB)
Video Format WMV/ASF/MP4/3GP/3G2M4V/AVI/MJPEG/RV10/DivX/VC-1/MPEG-2/MPEG-4/H.263/H.264/1280*720P HD 30 fps, 1080P/720*480 D1 30fps
Audio Format MP3/WMA/APE/FLAC/AAC/OGG/AC3/WAV
Picture format Max.8000×8000 JPEG BMP GIF PNG
WiFi 802.11 b/g/n
Flash Supports flash 11.1
Ports HDMI(male),Micro SD slot, USB host (full sizeUSB), USB power port(micro USB); LED(Blue)
Unit Size (mm) 90mm*40mm*13mm
MK802 III Package Contents:
Rikomagic Dual Core MK802 III
HDMI cable
USB power cable
Manual
 PROS:
MK802 III made my TV smarter and more useful

Always on with a running aTorrent app
720p .MKV movies run smoothly
USB connected external disk
Remote controled with WiFi AirMouse
Using Youtube app, IMDB app, listening to web radios
Android 4.1 (with all the apps, games, …)
Low price
CONS:
Custom firmware not the best (I am using Finless 1.7 720p ROM)
WiFi AirMouse occasionally loosing connection
Can't get SAMBA to share my NTFS 1TB USB disk
USB external disk NTFS ocassionally getting corrupted (need chkdisk repair)
My TV USB not having enough power to turn on MK802 III
Not very useful for web browsing in combination with WiFi AirMouse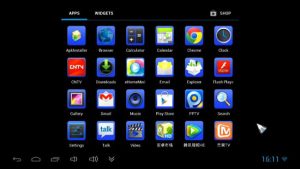 FULL STORY:
I have been using MK802 III mini computer for about  5 months. When i first got the device i was exstatic. I immediately plugged HDMI and USB cable into my TV to turn it on. The MK802 III's power can be supplied from your TV's USB port, but it was not working in my case. The TV did not supply enough power to turn on my MK802 III. Nevermind, I have read the forums and knew this might happen so I plugged my MK802 III into my USB hub with external power supply which worked great.
First i plugged in my WiFi AirMouse and tested it out. It worked fine so I downloaded a Full HD .MKV video. The video was playing smoothly too so i was happy with what i bought.
With time, I installed all sorts of applications on my MK802 III and soon it started to run low on storage – the 4GB model actually only has around 1GB or even less (i don't remember exactly) for applications. I also started noticing, that my WiFi AirMouse occasionally looses connection to the device – the connection is interrupted for a short second and then comes back again – just enough to make me mad and need to retype some letters twice. I also connected a 1TB USB disk to my device and started downloading movies to my disk. Almost everything was working fine, the problem was that I could not find any Android Samba application with NTFS support to share my disk to other MS Windows devices 🙁
Anyway, I started looking for a new ROM that would possibly fix my problems with my WiFi AirMouse. I browsed many forums and found Finless ROM 1.7. I read that this ROM is great because it actually outputs a real Full HD resolution (1080p), and you can repartition your flash storage and make more space for your applications. Yes, the resolution on stock ROM is not 1080p, it is only 720p! You will find out why 😉
I followed all of the instructions, repartitioned my storage (2GB of storage for applications) and installed Finless ROM 1.7 1080p. When i turned on the MK802 III i couldn't see anything. Do not get me wrong, the ROM was working perfectly but i could not read anything on the screen. The 1080p resolution is just too much so i quickly flashed it again with Finless ROM 1.7 720p. The resolution was back to normal and the device was working much better and smoother with Finless ROM 1.7 ROM. I am still sticking with Finless ROM 1.7 and i am very satisfied even though it did not repair my WiFi AirMouse problems with connection 🙁
I bought my MK802 III to play .MKV movies on my TV. I am perfectly satisfied with the device! I can browse the torrent sites and choose to download movies to my 1TB USB disk. I mostly download movies with 720p and the picture and sound quality is great! I also use IMDB Android application to watch movie trailers before downloading them. From time to time i watch a music video in the Youtube application or play a web radio. It is running Android 4.1 so there are a lot of applications you can run – it depends what you will be using it for.
If functionalities suit your needs i strongly advise you buy yourself an MK802 device!
There is a new version of MK802 – one is MK802 IIIS and another is a quad-core MK802 IV which i would really like to get my hands on and try it out. I'll try to ask Rikomagic to send me a testing device so i can write a review and compare my MK802 III vs the new quad-core MK802 IV 🙂