Xiaomi RedMi Note 2 is a fabolous phablet you will definitely love. The RedMi smartphone series from Xiaomi was first released back in the summer of 2013 when RedMi 1 was released. The RedMi Note is a second generation of the RedMi series and the Note 2 is the latest product from Xiaomi. The RedMi smartphones established a name of being great high performance and reliable smartphones of good build quality and also accessible from the price point perspective.
About Xiaomi RedMi Note 2
The latest smartphone in the RedMi series is the Xiaomi RedMi Note 2. RedMi Note 2 is a phablet with a 5.5 inch screen size offering Full HD resolution (1920 x 1080) and 400 PPi pixel density – trully a magnificent display. It's powered by Helio X10 Octa Core 2.0GHz backed up with 2GB of RAM which should satisfy all of your needs. The RedMi Note 2 comes in two additions offering 16GB or 32GB of space for your documents and downloads.
It's running an Android 5.1 operating system and a more and more popular MIUI version 7. The selfie camera offers 5MP with f/2.0 focal ratio and the back camera from Samsung offers 13MP with f/2.2 focal ratio. The camera software offers all of the standard features like Face detection, Smile detection, Digital zoom, Self-timer, …
As most smartphones from Xiaomi the RedMi Note 2 also offers a dual micro SIM card slot and a dual-standby feature. The smartphone also supports all of the standard connectivity features like Bluetooth, 4G, GPS, 3G, WiFi and GSM and it is powered by a 3060mAh Lithium-ion Polymer Battery giving you 46 hours of music time.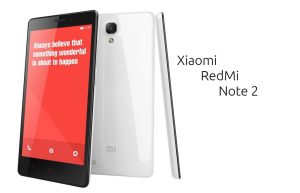 Xiaomi RedMi Note 2 lowest pre-sale price
The Note 2 smartphone was officially released on Aug 13th. Gearbest.com offers a 16GB and 32GB version of Xiaomi RedMi Note 2 for the lowest pre-sale price available. The Note 2 pre-orders on Gearbest.com oppened up on Aug 18th and end on Sep 16th. Also note that Gearbest.com offers free shipping services worldwide so pre-order your Note 2 immediately.