Yep, even us, System Administrators have our day of the year. It is called the "System Administrator Appreciation Day" and it is the day everybody should show some appreciation for the work done by System Administrators not just at your work but all over the world.
The "System Administrator Appreciation Day" is an annual event which was started by Ted Kekatos. The first "System Administrator Appreciation Day" was held on July 28th, 2000 so this year it is the 16th in a row. The "System Administrator Appreciation Day" is held each year the last Friday in July.
This is the day you should thank your System Administrators for all the work they have done for you directly or indirectly throughout the year. Nowadays we can not imagine life without computers, the internet, smartphones and so on. It is as if we can not make a move that does not include technology which consequently leads to a chain of System Administrators making sure it all happens when you want it and the way you want it! There are hundreds of millions of computers all over the world that require regular maintenance and administration to make it all work together and all this is done by System Administrators.
The nature of System Administrator work is one of the most stressful and intense and the working hours are anything but normal. System Administrators are usually the ones in the line of fire, the ones that must be always available, they are first to know about trouble, the first to respond to trouble and also the last to go to sleep when the trouble is resolved. They are not just dealing with computer systems (which is sometimes easier than …) but also with users and employees and often have to put up with the bad mood of all of them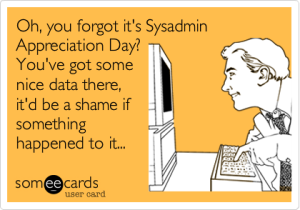 When you meet your System Administrator in the hallway today, don't jump him and start explaining your problems. At least today, stop and thank him for all the help he provided you with throughout the year! Let him know that you appreciate everything he is doing for you and others
… and give him some CAKE or other SWEETS!